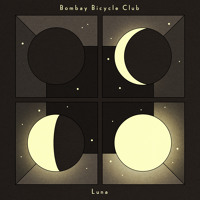 London four-piece Bombay Bicycle Club are en route to following in the footsteps of Foals, whose third album 'Holy Fire' turned out to be a game-changer not just for themselves but for their fans too. Now, Crouch End's finest are back with the second single 'Luna' from their fourth album 'So Long, See You Tomorrow' in which they display bright, shimmering choruses of untold potential and sun-bleached beats that will undoubtedly set hearts a-flutter.
They may be gearing up to take their sound to bigger stages this year, but Bombay Bicycle Club are a group who haven't forgotten their roots. Comparisons to 2011's 'A Different Kind of Fix' are still easily identifiable. Although, these masters of festival-friendly anthems mesh well the sounds of the past with those of the future.
With other tracks 'Carry Me' and 'It's Alright Now' from their forthcoming fourth album already out there, Bombay Bicycle Club are once again setting their own limits and refusing to compromise. 'Luna' is a swirling slice of what's to come when their new album drops and it might just be their greatest moment to date.
Words Lauren Wade