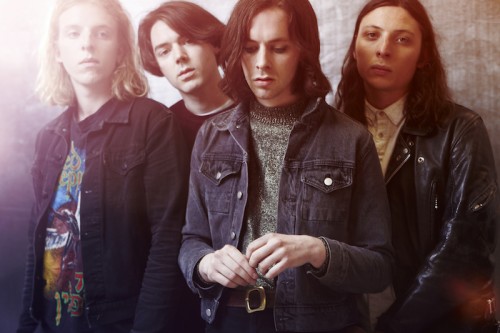 Birmingham four-piece Peace have had an incredible 2013 - now rounding things off with a festive spin on Wham!'s classic Christmas hit 'Last Christmas'. Currently touring the UK as part of their biggest headline tour to date, the band have kicked things off in style with a celebratory video to accompany their cover version of the festive tune.
Frontman Harry Koisser released a statement explaining how their cover came to be, saying "About a week before it's beginning, we realised our approaching UK tour ran straight in to the belly of the Christmas period. Despite our Scrugicidal Tendencies, we found ourselves in a bout of excitement. A miracle perhaps?
Anyway, we ended up pit deep in the festive moment and guided by the spiritual production of Blaine Harrison, we recorded a festive cover and shot some video doing it.
Here it is. Have a wonderful December xxxx"
Watch Peace's cover of 'Last Christmas' below and check out their remaining tour dates.
December
03 - East Village Arts Club, Liverpool
06 - Shepherds Bush Empire, London (SOLD OUT)
07 - Shepherds Bush Empire, London
12 - Anson Rooms, Bristol
13 - Academy, Birmingham
Words Lauren Wade